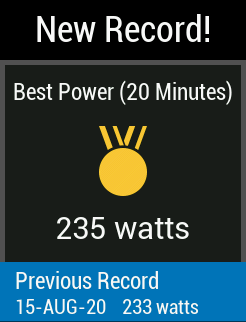 Tonight was all about getting in an hour on the bike before heading out for a succulent Chinese meal.
And indeed that's exactly what I got. Just shy of an hour. And just shy of 30km. I did a repeat of last night's route, only this time in reverse.
Unlike last night I didn't follow a set workout. Instead I opted for a bit of a personal challenge. Could I get an average of 30kph or greater for the ride? And I'm pleased to say I did manage this, averaging 30.4kph for the duration of the ride. Really pleased with this.
Less pleasing was my mistake in understanding the segment challenge that popped up in the first 10km of the ride. I'd been going quite hard along the long, mostly flat A6 outbound leg of the ride when the Garmin popped up a note on screen that I was approaching a 5km or so timed segment, and my previous PB displayed alongside, taunting me to take on another attempt. And so I did.
I got a really decent attempt in, right up to the final 200m at which point I couldn't help but look down, willing and hoping to be done with the segment as I was absolutely exhausted. And then the Garmin started beeping at me and I thought ahh to hell with it, I'd clearly missed beating my PB. But after I gave up I found myself wanting to kick myself (though being that I was clipped in, I thankfully couldn't) as what I didn't realise was that the first beep was the overall segment best, and then the second beep was my PB. So if I'd have kept up I would have beaten my PB. I was really disappointed with this for a good ten minutes or so afterwards. Lessons learned. Don't give up.
After this I tried to settle in to a routine of sticking to around 3.5w/kg and by and large I did alright with this. Inevitably I found myself ramping towards the end of my ability to hold the wattage, often finishing in the low to mid 4s. All good for the fitness anyway.
I did a number of repeats of this, and once on the final leg of the ride realised my time must be good as I was estimated to be home before the hour was up, which even my chimp tier maths told me was an average of at least 30kph. Missions achieved. Or at least, incentive enough to keep it up and achieve the mission.
All in all then, a good ride and a good second ride of the week. I'm undecided whether to rest tomorrow and ride Friday, or vice versa. Or just ride both. I'll probably take the next ride a touch easier. Happy to see the 235w new power record. I think that's maybe a tad low, but it seems fair. My overall best 20m effort is in the 250s according to the garmin. I just don't feel like I have that in me right now. I'll take the 234w and 95% it which gives me a rough FTP of 224w. Right now I'm thinking that's fair and I could probably do the SST sessions without too much issue at that pace.
Though I guess, we shall see.